We have air mattresses for hospital beds available quickly
Nov. 13, 2020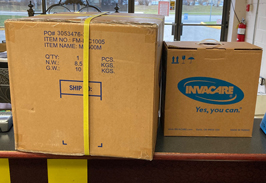 The almost always in stock ma 500 ($2249) comes in two boxes that one that 12" x12" x 7" and a second that is 17"x17"x17" to easliy take home with you.
The lightweight and easy-to-use microAIR MA500 Alternating Pressure Mattress System with Low Air Loss aids in the Prevention and Treatment of Pressure Injuries.

-2-in-1 alternating pressure cycles help ensure protection for those with low to medium risk
-Cell in cell design helps prevent bottoming out in the event of a power failure
-Natural heel slope is designed to decrease pressure in the vulnerable heel area
-Soft nylon urethane backed cells are designed to provide easy cleaning and help minimize the proliferation of bacterial growth
-Highly vapor permeable and oversized pliable quilted nylon top cover is designed to provide low shear, friction and moisture protection

Dimensions: 36"W x 80"L x 8"H
Flow Rate (Pump): 5 LPM
Therapy Type: Alternating Pressure, Low Air Loss
Product Weight Capacity: 350 lbs.
---