View a map of places we have recently delivered to.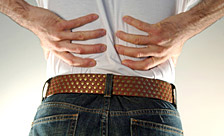 Back pain is a serious issue in today's society -- far more serious than most people realize! How serious, you ask? According to the American Chiropractic Association, right now more than 31 million people are experiencing lower back pain. And that's to say nothing of the upper back and neck!
Back pain costs billions of dollars in missed work time and treatment each year. Statistics show that 80% of North Americans will experience problems in their back at some point in their lives.
» Download Back Pain PDF
---
More Than the Back!
Back pain results from many causes: injuries, medical conditions, improper posture, poor shoes, and poor mattresses. Unfortunately, back injuries also create serious side effects that can become just as difficult to handle as the pain itself. Headaches, depression, reduced motion, nausea, and pain in your limbs all originate in your back.
In rare instances, back pain can indicate a more serious condition, such as cancer or kidney infections. Most of the time, though, back pain is the result of a minor injury such as a muscle strain.
---
Preventing Injury
The best medicine is prevention! Keep your back healthy and you won't have to deal with the trauma of a bad back. Exercise caution when lifting. If your work requires heavy lifting, make sure you lift with your knees. And don't be afraid to speak to your employer about providing safer working conditions.
Also look into your lifestyle. Exercise and physical activity are key elements of back health. Carrying too much weight, being a couch potato, and improper nutrition can seriously aggravate an injured back.
Also consider how you move and sleep. If your shoes and mattress provide inadequate support, you could be doing a lot of damage to your back just by walking around and lying in bed.
---
Managing Pain
Back pain can have a terrible impact on your daily life. Fortunately, there are many treatments and practices available. Keeping active, taking care of your body, and buying and maintaining a good mattress are just a few of the ways you can manage pain and keep your day-to-day life as normal as possible.
Don't let back pain rule your life. Find ways to treat it. Make sure you eat, sleep, and exercise properly, and you'll be amazed at the changes you'll see not only in your back, but also in your overall well being.