The Adjustable Electric Bed
The Stuff of Dreams

View a map of places we have recently delivered to.
Searching for a restful night's sleep for yourself or someone close? Looking to remedy back ache, neck pain, or a loved one's constant discomfort? Wanting a bed that's both functional and conventional – the best of both worlds? If your answer is "yes" to any of these questions, then it's quite possible, no matter what your age, that your next purchase will be an adjustable bed.
Designed with medical and scientific research behind it, adjustable beds can sooth your aches, align your spine, and promote good sleep with a simple "adjustment" tailor-made specifically for you. Blessed with the same functionality of a hospital bed, an adjustable electric bed can be an ideal solution – whether you need it for help with a medical condition or simply to better enjoy the balm of sleep.
Adjustable beds:
• Choosing the mattress
• Choosing the right sizes
• Choosing the superstructure (the base)
• Choosing the manufacturer
• Maintenance and care
• Download Adjustable Bed PDF

Shop Our Adjustable Beds »
---
An Informed Decision
Once you've decided that an adjustable electric bed is for you, next comes the shopping stage. Before you begin however, know that there are a lot of models out there: to compare, to contrast, and to choose from.
As a consumer, your best approach is to know as much about adjustable beds as possible so that you can make an informed decision. Like any bed, this is a major purchase, one made for the long-term. The question is though, which adjustable bed model is best for you? In other words, which is the bed of your "dreams"? There are several points to consider.
Designed for comfort, most adjustable beds are comparable to beds found in a hospital or a medical-care facility. Similar in principle to hospital beds, an adjustable electric bed is made to adjust to your particular needs. It can gently elevate your head and/or feet; it can position you in a way that will relieve aches; it can promote circulation; and most impressively, it can be conducive to rest. All this with a touch of a button.
Adjustable electric beds can be the way to go for a number of reasons: sleep disorders, being bed-ridden, or simply wanting a place to relax and ready for the next day. They're perfect for therapeutic rest, but just as well-suited for simple relaxation and everyday activities, such as reading, watching television, doing paperwork, or working on a laptop.

Back to top
---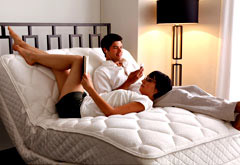 Checklist: The Mattress
But what of the sleep surface? The type of mattress you buy is key to any adjustable bed working properly. Depending on your sleep needs and habits, it's important to find a mattress that matches.
When shopping, keep in mind that an adjustable bed is just that: adjustable. Typically, it will "fold" in accordance to a two-point articulation system, which means that the bed will adjust in two specific places. As a result, the mattress will divide into three sections: the head section, the middle section, and the foot section.
Naturally, the mattress you select will need to respond to such movement. Thus, though there are several different mattresses to choose from, the underlying aspect of each is that they can adhere to the demands of an adjustable bed.
The ideal mattress will work with minimal resistance, while keeping its elemental qualities. As for the type of mattress you'll want to invest in, this all depends on what you need and what you'd like to receive from your bed.
Memory Foam:
Adjustable all its own, a memory foam mattress is typically designed with viso-elastic foam, enabling it to conform to the contours of your body by temperature and weight. Such mattresses also help reduce pressure points, while caressing the body with memory foam.
Latex:
Similar to memory-foam mattresses as far as pressure level, latex mattresses are the most resilient to movement. As well latex mattresses have the longest life-cycle, although more costly they can be more economical because they need to be replaced less often.
Spring Coil:
Made to absorb motion during sleep, such as tossing and turning. Such mattresses are sturdy in construction, designed with innersprings to limit motion while keeping the body supported. Popular maker: Leggett & Platt.
In addition, consumer demand has prompted manufacturers to create mattresses to meet even more specific needs. Examples include:
Lumbar Support:
Made to help those who suffer from back problems. The mattress's construction is designed to support and align the body for a better night's sleep.
Anti-Allergy:
A relatively new design that's become increasingly popular due to the number of allergens in the air. Such a mattress comes equipped with a removable top that can be cleaned of contamination.
Back to top
---
The Right Size
You'll also need to choose the right size of mattress. This too will depend on your individual needs. This is what an adjustable bed can offer though: an individualized bed made for maximum comfort. If you're using an adjustable electric bed, the chances are good that you have a specific condition to relieve. And thus, if the aim is specific, so should be your mattress. Overall, there are five basic sizes:
Extra Long Single:
Appropriate for a person who's bed-ridden and/or needs to spend a good deal of time in bed. (approximately 39" x 80")
Extra Long Double:
Similar to the extra long single, it's made for the individual, but with more room. ( approximately 54" x 80")
Queen:
Made for an individual or a couple, the bed cannot be adjusted for each person though. ( approximately 60" x 80")
Dual Queen:
A queen-sized bed in which both sides can be adjusted for the individual's comfort level. (two units approximately 30" x 80")
Dual King: More room, with each side adjustable to fit the individual's needs.
( two extra long twins put together each approximately 39" x 80"
Back to top
---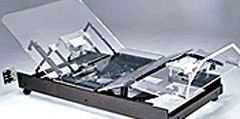 The Superstructure
After settling on your mattress, next comes the "superstructure," the base of the adjustable bed. This is what will make your bed "go." It's essentially the power that drives the machine. The motor.
Just as your mattress complements your sleep habits, so should your adjustable electric bed. One of the main aspects you'll want to compare is the sound level of the motor. The ideal motor is a quiet one, one that won't be too overwhelming when in operation.
The reason for this is two-fold: 1) its simply more pleasant for the machinery to be as quiet as possible and 2) being quiet, any potential problems can be detected more easily, should the sound level ever increase with time. Most motors today are located within sound-dampening cases though so you really can't go wrong in this department.
When choosing an adjustable bed frame, remember again that this is an important investment. Though some systems may cost less, they also may not be able to withstand use for a considered period of time. Proper research is always advisable when buying such an item. You'll want to make sure you get a quality return-on-investment and one that will also offer longevity.
Price-wise, adjustable beds range from $1,500 to $4,000 and above. Adjustable electric bed will cost more than manual versions. To help with maintenance, most electric bases also come with a back-up battery system in case of power loss.
Back to top
---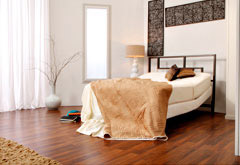 Buy with Confidence
A reputable manufacturer can provide peace of mind. An adjustable electric bed isn't just a bed frame, but literally a piece of machinery. You'll want to be certain that all parts are working properly and have the confidence that it will continue as such down the road.
For instance, with manufacturers like Leggett and Platt, you can purchase knowing that their long-standing reputations in the market are based on satisfied customers, repeat business, and industry-leading innovation. Over time, these manufacturers have made modifications to improve upon winning formulas. As a consumer, you benefit from such competition.
In general, you'll want to look at what each manufacturer offers in common and what makes each unique. Depending on your need, one type of adjustable system will likely work best. If for example, you need an adjustable electric bed to help relieve poor circulation, you'll want to find one that promotes good blood flow. A latex or memory foam mattress will likely be your best choice
Guard rails, a mechanical lift – such additions may also be helpful for self-care as well as for a person taking care of someone else at home. Other add-ons that can help make an adjustable electric bed easier to operate and maintain include memory positioning, wireless control, and massage options. Massage, like Leggett and Platt's wave massage, is usually available in gentle to powerful options.
You'll also want to look into finger-tip adjustments. How does the remote work and what can be controlled with a push of a button. Does it have a memory function? While adjustable beds are ideal for most anyone, oftentimes they're purchased to give people the kind of comfort at home that they would receive at a hospital. Independent living can be greatly enhanced with proper controls and movements being just a click away. For the caregiver, such easy functionality will also prove beneficial.
Back to top
---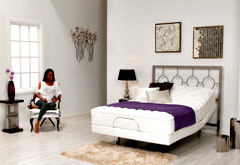 Maintenance and Care
As for how to care for your adjustable electric bed, you'll want to look into the length of the warranty and what is covered with it. While you shouldn't have to worry when it comes to major manufacturers, it's simply "buyer beware" to know what you have (and don't have) covered by the fine print.
Keep in mind that adjustable beds are heavy. They're not like regular beds that come apart and are easy enough to assemble by two people. An adjustable electric bed needs to be put together properly to ensure absolute quality once it's ready to use. To do this, it's a good idea to request full service for your new bed: shipping, delivery, and set-up.
You wouldn't want to try and do the assembly on your own, only to find that it isn't working right. Who would you call then? The manufacturer or store. To save a house call, request this service from the start. Overall, such a package would cost around $200. However, if you do choose to assemble such a bed on your own, you'll want to take a look at the ease of assembly. Does the bed come largely pre-assembled?
Leggett and Platt systems for instance are almost entirely assembled when they arrive. Some assembly is required, such as attaching the caster wheels and programming the remotes, the entire process can take as little as 10 minutes. If you're comfortable and confident about assembling things yourself, then such a system should be fairly simple. If however you're at all doubtful, then definitely consider the full-service package. Make sure your bed is set up right from the start.
Back to top
---
Functional and Stylish
And finally, when selecting an adjustable electric bed, don't go into the process thinking that you're purchasing a "hospital bed." Today, manufacturers are creating beds that are both functional and stylish.
As noted above, an adjustable bed is a major purchase and if of quality, should last for up to a decade. You'll therefore want to be happy with what you're putting in your home. This speaks to the aesthetics of the system. It need not look like a hospital bed and in most cases, it won't.
Though the functionality of an adjustable electric bed is comparable to that of a hospital bed, the aesthetics of today's models more resemble conventional beds. In essence, you can now enjoy the best of both – comfort and style – with a modern adjustable bed. (During your search, simply look for a bed that has its motors and flex points concealed.)
Given the rise in popularity of adjustable beds, most manufacturers are trying to design models that are as attractive as possible. While such beds are being purchased primarily for comfort and adjustability, they are also being "selected" for their appearance. Thanks to this, selection has become much more varied.
And there you have it. Now, how far off is that good night's rest?
Shop Our Adjustable Beds »