View a map of places we have recently delivered to.
Choosing a Bed After Injury or Hospitalization
Whether recovering from an accident or injury or planning your return home from hospital after a spinal problem, you will be wondering about how to select the right bed and associated equipment.
Shop Our Mattress Selection »
---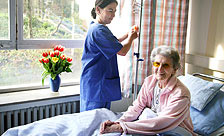 There are a large number of options on the market, and it can be confusing and time consuming trying to determine your specific requirements. This guide is designed to help you sort through the various alternatives, and to understand the different products available.
Gathering information
Before looking at any piece of equipment in detail, it is essential that you gather some basic information about your rehabilitation plans. This involves not only speaking to your doctor or surgeon, but also to your physiotherapist, occupational therapist, case manager and/or social worker. If you have not been provided with support therapists, you should ask your doctor to make a referral as these specialists are trained in reviewing equipment requirements, understanding your specific needs and advising on suitability and funding options.
Equipment requirements
You should ask your therapists what equipment you will require upon discharge or return to home. This does not only include the bed itself, and or mattress and pillows, but other equipment to be used on or near the bed. Some of this equipment will need to be attached to the bed, slide under the bed, or rest between the frame and the mattress. This will be crucial when selecting the bed and mattress – as all of your equipment needs to work together. Other equipment can also potentially limit the space you have for a bed and you will need to be aware of this when selecting a frame and fittings.
Care requirements
Understanding your expected care requirements is also important before contemplating the bed itself. This may seem irrelevant until you contemplate:
• will you need help getting in and out of bed?
• who will provide this help?
• will there be exercises or other activities you need to do in bed that another person needs to assist with?

All of these questions will impact whether you need a height adjustable bed that will prevent your caregiver from suffering back problems of their own.
If you are mobilizing yourself you may require high side bars, but these will be impractical if you need a caregiver in the short term and the bars cannot be removed.
Length of rehabilitation
How long are you expected to take to recover? What are the phases of this rehabilitation? These questions will help determine whether you should purchase or hire equipment. You will need to decide whether it is worthwhile investing in top of the range support for a long term condition, or whether you can make do with less expensive products, or hire alternatives until your condition stabilizes.
Available funding
While this topic will be considered later in this guide, it will be important to have an idea of what funding for equipment is likely to be available to you. The differences in costs can be significant, and understanding your total budget will assist in determining what equipment is a priority.
Possible complications
Are you likely to be immobile for an extended period? Are pressure sores a concern, or other circulation issues? Are there specific requirements to avoid these, or support your rehabilitation? Are there specific instructions for spinal care, bowel and/or bladder support, mobility and comfort that need to be considered when selecting a bed and accessories?
---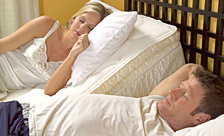 Choosing a bed
Adjustable posture
If you are going to spend an extended period in bed you may want to consider a bed that provides for adjustable posture. This will make it more comfortable for you to sit in the bed, and may make sleeping more comfortable. Adjustable posture can also be helpful for avoiding pressure sores as you are able to adjust to different positions without placing further pressure on your spine or other injured area.
You should ensure you discuss these options with your therapist to ensure you are making an informed decision about the best supports for your particular condition.
Mattress inclinators
These devices can be used on a standard bed and are fitted to the frame to provide sections that can incline at the top or bottom of the bed. The mechanism itself is electrical and controlled by a separate handset.
Mattress inclinators allow you to save on the expense of an entirely new bed, but you will need to check whether they are compatible with your mattress, and whether the platform, frame and power mechanism are compatible with any other therapeutic devices you might require (such as bed poles, side bars and etc. More on these below).
The amount of noise made in moving the platforms can vary considerably. Make sure you have heard the unit incline and recline with the mattress on and with a person in the bed. If the noise is irritating the first time – imagine when your spouse changes position for the twentieth time! Of course noise is not always the prime consideration, and carergivers for the elderly can sometimes prefer to hear when their patient is adjusting the bed, so as to ensure they are able to provide assistance if necessary.
You will want to check whether the incline of a sitting user prevents the bedside table or therapeutic aids from being reached. As the incline will raise you forward, this will need to be taken into account when positioning furniture and aids.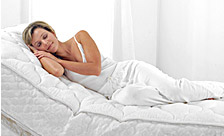 Electric adjustable beds
Click here for more detailsAdjustable beds have a sectioned base that allows the bed to incline to a sitting position, to raise the legs, or both. It is important to discuss your bed selection with your occupational therapist as there may be some postures which are not advisable for your condition.
While manual style adjustment is a cheaper option, these can be difficult to manage for both yourself and your caregiver. An electric mechanism, preferably with a handset control is easier and ensures that changes can be made to posture at all times.
In cases where you need to move regularly and will not have a full time caregiver, this can be very important. It will be important to understand:
• What angle is best for your spine during your recovery, and whether there are inclines to be avoided
• Whether you could/should use a leg raise – as this can sometimes put pressure on the lower spine if applied incorrectly
• Whether leg raising will assist with circulation concerns, or in assisting you to gradually return to a more upright position without sliding down the bed
• Which positions the user can modify with the manual control, and which can be reached only by the caregiver

There are both domestic and hospital style frames available. Many patients prefer a domestic style, which looks like a regular bed, but there are good reasons to consider the hospital style frame:
• Whether you need to attach bed poles, side bars, clamps, trays or other equipment to the frame – many domestic designs do not allow for this
• Does the frame of the bed provide a solid edge for you to lean on when entering and exiting the bed?
• Will you need to hang catheter bags or other medical supports from the frame discretely?
• If you are anticipating changing posture frequently a less rigid frame may cause mattress movement and bedding slippage

Finally, quality of manufacture will be crucial if you need to adjust the frame regularly or will be spending a significant amount of time in the bed (especially in one position). Beds that no longer adjust easily, are noisy, jam or are not smooth in their movements can be the result.
For couples
Some beds have the option of separate adjustment for couples, allowing for different inclines on either side of the bed. Essentially this comprises two single beds slotted in together to adjust separately.
If the long term intention is that you will share your bed with your partner, but need bed rails or other supportive equipment in the interim, then a bed with separate adjustment could be a viable option. These beds often come apart and can be used separately as two singles. Then when the equipment is no longer required on both sides, the beds can be slotted back together.
---
Adjustable height
Adjustable height beds
Adjustable height beds are helpful if you find it difficult to stand when getting out of the bed. Raising the height of the bed to allow the use to place their legs on the floor and then turn at waist height can assist. However this height may not be conducive to carergivers providing assistance, or may not be the best height for getting back into the bed. Adjustable height beds allow the bed to be raised and lowered to meet the varying requirements.
Adjustable height beds are also helpful when other furniture is to be used in bed – for example a free standing table from which to eat, drink or read.
Adjustable height beds can be powered manually or electrically. As with adjustable beds, manual adjustment may be cumbersome or physically demanding, and movement may not be as smooth as with electric adjustment.
Manual adjustment often requires the caregiver to adjust bed height as the control is outside of the bed (usually at the foot), which may hinder independence.

---
Other alternatives
Chair beds
These come in two forms – beds that will allow a high level of incline to resemble a chair, and chairs that allow a high level of recline to resemble a bed. You can then move between sitting and laying without needing to transfer from one piece of furniture to another.
Consider the following:
Is the bed intended to be used in the bedroom or a shared living space? The chair bed may not necessarily provide the most comfortable mattress if it is to be used as the bed where you will sleep. It can also take a lot of space for a living area.


Is it intended that you will remain in one room only? There are psychological advantages to having one room for day use and one for night time sleeping when you are in the rehabilitation phase.


Is the incline an appropriate posture for your specific spinal condition? Some chair beds incline into a "V" shape before flattening, which can cause pressure on the lower spine, and not offer the gradual change of position that an adjustable bed does.


What supports are available for the feet and lower legs? This can be very important if you are managing circulation issues and reduced mobility.
---
Finances
In the case of accident or injury, ensure your lawyer provides advice on your ability to receive compensation for appropriate bed and equipment, including mattress, for rehabilitation. Ensure you raise this early so that the items can be included in the care management plan. If you are going to require suitable bedding for a long time, ensure your lawyer is aware of this – now is not the time to be taking cheap alternatives. You are going to be sleeping on this bed for a long time!
Always speak to your occupational therapist prior to purchasing expensive equipment. In many cases an OT recommendation will be required if your health insurer is going to fund the equipment. The OT may also be able to discuss you requirements with your doctor if the insurer requires a doctor's recommendation.
Occupational therapists can also advise on best value for money when comparing models – there may be twenty different functions in a motorized adjustable bed – but do you really need that many? If your health insurer will only fund a certain dollar value for appliances and rehabilitation aids, the OT can assist you in prioritizing these, or suggesting alternative avenues for funding. If some equipment is only required for a short time it may make more sense to hire this and save your insurance for the longer term needs.
Shop our Pillow Selection »