How much for a twin size vinyl covered mattress?
Dec. 04, 2019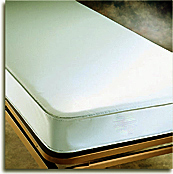 The 5-6" simple foam core mattress is the least expensive model at $299.
The vinyl Comfort Rest spring filled mattress is next at $349.
The 8" thick high desnity foam core mattress is next at $499
The Vinyl Blue Sky 100 mattress is our best quality model at $599.
Local Mississauga delivery to you room is free, many parts of the GTA are $69.
Nine CLouds Beds is open 355 days a year for all your vinyl mattress and foundation needs.
---