Are long rails available on your home hospital beds?
Oct. 28, 2019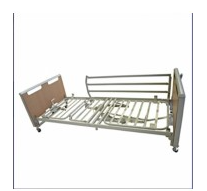 Yes they are. If you are trying to prevent a loved one from falling out of their hospital bed during the night these long rails can be a good solution. When not needed they either drop down or rotate out of the way (depending on the model chosen) to make ingress and egress easier.
These long rails can be purchased and added later when needed because often half rails are best when your loved one is more mobile.
Please visit Nine Clouds Beds Mississauga hospital bed showroom open 355 days a year.
---