Where can I find split box springs for a double size mattress?
Jan. 19, 2020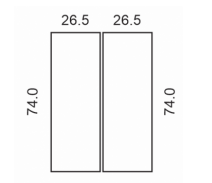 Right here!
We've supplied a pair of 26.5" x 74" mattress foundations for customers maybe a half a dozen times over the two and one half decades I have been in the bed business.

It's not very common for a set of stairs to be built so tightly that a standard double (one piece box spring) can't navigate them but it happens, most often into basements and converted attics.
At Nine Clouds we can have foundations built to pretty much any dimensions (including different heights). Please visit our West Mississauga showroom open 355 days a year at the Northeast corner of Glen Erin & Dundas.
---