What's the largest custom size mattress anyone has ever asked for?
Jul. 22, 2019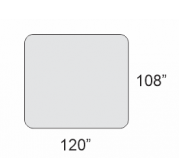 Well boy do we have a new record.
I received a phone call yesterday from a gentleman wanted a 9ft by 10ft mattress! Of course I asked why so big and he told me that he and his wife were very tall. It was more than a surprise when they came to visit the showroom today because he was joking with me as they are average height just like my wife and I:)
They selected the Pure Copper Latex mattress and will call back to place their order when they confirm with a custom furniture manufacturer the exact size of wooden bed they have commissioned.
Nine Clouds Beds is open 355 days a year in West Mississauga to help you choose the right mattress for any custom size bed you can find.
---