Vinyl mattresses are the best choice for camps, shelters and institutions
Apr. 16, 2019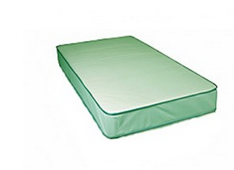 Vinyl mattresses are the only solution of choice for many institutional mattress settings and homes with special needs family members. Vinyl beds are easily cleanable, waterproof, and be impervious to bed bug mattress infestation for as long as the seams remain intact.
The more rigorous the setting the stronger the vinyl will need to be. Do not accept cheap thin covers that are poorly stitched (we can have your mattresses double stitched for extra strength) as they will need to replaced much more often. Vinyl mats are available with solid foam cores (least costly) and with open coil innersprings with edge guards and made two sided fir longer life (the best quality more expensive).
Visit our West Mississauga showroom to try before you buy our selection of vinyl mattresses today.
---