Their last first day of school together. Exquisite Sleep episode 17
Sep. 10, 2013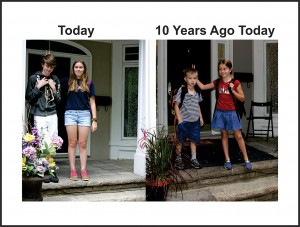 Con & Cait are now in grade ten and twelve so they didn't have to go in to school until 11 a.m. on last Tuesday's first day of school. I made sure to come home from the store before they left and had them pose one last time in our time-honored spot on the front steps.
There were typical teenage groans but the smiles returned quickly when I asked Cait to "Put bunny ears over Con's head just like you did ten years ago" They've been together at daycare and then in elementary school, apart in middle school when Cait went to late French immersion and then back together again for two years at Lorne Park High.
A few days ago Cait told her mom that she was now ready to move on from High School and I have no doubt that she is, but when that moving-out-to-University-day comes late next summer there will likely be another post when I'm able to compose myself.
I slept exquisitely last Tuesday night knowing how far they have come and dreaming how far they will go
---