Someone was looking for a 3/4 mattress from stock two days before Christmas
Dec. 23, 2019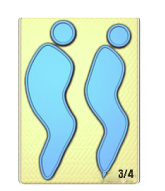 We always have a few in stock albeit for pick up only this close to the holidays because I don't ask my delivery team to work the 3 days around Christmas.
Chris from Milton Ontario rented a truck from Home Depot by the hour so time was of the essence as he quickly viewed and lay down on our Elegant Sleep plush pilow eurotop model and he like it in every way. I had already brought the 3/4 mattress version from the back of our warehouse to the side loading door in advance to reduce his wait time.
Within ten minutes (would have been even quicker if tapping-to-pay had worked) and wish of Merry Christmas he had disappeared up Glen Erin drive back to Milton.

---