My 3/4 bed is 47.75" x 74" in interior dimensions. Will a standard three quarter mattress fit?
Dec. 03, 2019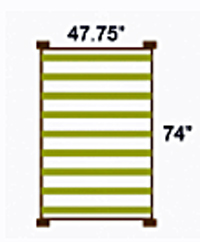 It will but it could be a tight fit.
Our standard 3/4 mattresses are very close to 47" x 74" therefore if your wooden three quarter bed has a lip on the sides and a headboard and footboard at each end our standard mattresses might fit too tightly to easily tuck in sheets and other bedding.
It is a personal choice of course whether you want the maximum sleeping surface size or not. A visit to our West Mississauga showroom will help make this more clear if you are having trouble visualizing the issue.
We are open 355 days a year to help you find that perfect 3/4 mattress.
---