If I have a metal headboard and footboard can we drop your adjustable beds inside?
May. 08, 2019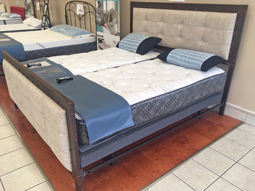 A recent customer who bought a split king adjustable bed called me back later that day to make sure his current bed would work to surround his new purchase. Their metal king size headboard and footboard uses a standard iron frame to connect the two portions of the bed together and support his normal king size mattress and box springs. It has a lattice work of cross supports that will get in the way of the legs that support his new adjustable bed.
Once things slowed down in the store a couple of hours after he left the showroom I sat with his order on my desk and realized he would need a pair of steel bolt on rails to make his old bed properly surround his new electric bed. Theses rails just attach from the headboard to the footboard with no cross supports whatsoever. I told him not to worry and that we would happy to include those steel rails at no charge.
So the answer is yes you can still use your existing iron headboard and footboard with our adjustable bases with the one small caveat that the bolt holes is them line up properly with our bolt on steel rails.
Please visit Nine Clouds Beds Mississauga adjustable bed showroom at your early convenience, we're open 355 days a year.
---