I need a 40.5" x 70.75" mattress. How many of this size do you have in stock?
Jul. 01, 2019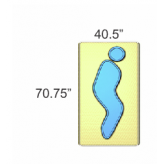 We couldn't possibly stock all fifty models in every possible size and would never try because it would take a crazy big warehouse and we would have to charge way more per custom mattress than we do currently.
It will only take 7-14 days for your custom size mattress to reach our warehouse and most customers are good with that time frame. Occasionally we have one made more quickly and we are certainly happy to try but can't guarantee it.
---