Does anybody still sell brass beds?
Mar. 01, 2023
Brass beds have been popular for many years, and while their popularity has waxed and waned over time, they remain a classic and timeless choice for bedroom decor. Currently, brass beds are experiencing a resurgence in popularity, with many interior designers and homeowners opting for the unique look and durability of brass bed frames.
One reason for the popularity of brass beds is their versatility in terms of style. They can fit well in traditional or modern homes, depending on the design of the bed frame. Brass is also a durable material that can withstand the wear and tear of daily use.
Overall, while the popularity of brass beds may fluctuate over time, they have remained a popular choice for many years and are likely to continue to be a popular choice for those seeking a classic and elegant look for their bedroom.
(view our on sale brass bed available in limited quantities in king size only)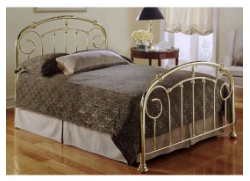 ---