Do you deliver three quarter mattresses to Thunder Bay?
Nov. 09, 2019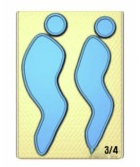 We are contacted every day by people from all over the country who are looking for custom size mattresses. Yesterday it was someone from Thunder Bay Ontario.
We do not deliver that far away with our own truck but we can box up your purchase at no charge (a must to prevent damage) and we'll find a freight forwarder that will pick it up at a fair price.
Our showroom is open 355 days a year to help you choose a comfortable custom size mattress including three quarter size.
---