Custom fitted sheets for adjustable beds of all sizes
Jul. 11, 2020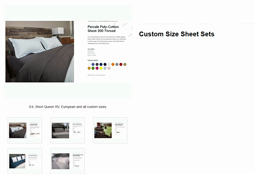 Many customers who purchase split queen or split king adjustable beds from Nine Clouds already have standard queen or king sheet sets that they are fond of. You can now buy custom fitted sheets alone for each have of electric bed. These fitted sheets are available in all kinds of fabrics that are mostly solid colours.
Birch Sheet 300 Thread
With an incomparable softness, and low wrinkling, the Birch sheet will envelop you with its soft and shiny silk-like appearance. Laboratory tests have shown that this product does not pose a risk for allergies.
Bamboo Rayon Sheet 220 Thread
Bamboo fibre has natural and antibacterial properties. Soft to the touch, durable and insulating, the Bamboo sheet will adapt to the temperatures according to the seasons, in addition to offering a softness comparable to cashmere.
Bamboo Egyptian Cotton Sheet 330 Thread
Soft to the touch, absorbent and resistant, this high-quality 330 thread count sheet will provide a silky and glossy appearance that will charm all.
Percale Poly-Cotton Sheet 200 Thread
For a long-lasting, easy-to-care and low-wrinkle quality, Poly-Cotton sheets are a good choice. They are offered in a wide range of contemporary colors.
Percale Poly-Cotton Sheet 180 Thread
For an economical solution and carefree maintenance, Poly-Cotton 180 Thread is the low wrinkle solution.
Flannel 145 GSM Sheet
For soothing comfort in a simple way, select the ultimate in softness of a flannel 100% combed cotton. It will keep you warm on those cool winter nights.
---