Can you make us a 140cm by 200cm European size mattress?
Sep. 14, 2019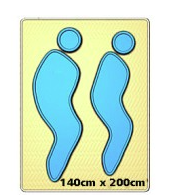 A customer visited today from Oakville, they had just moved from Europe and needed a new mattress for their son's 140cm by 200cm platform bed. They could already tell from our website that we make 160cm x 200cm (they also needed one of those) and 180cm x 200cm but we're unsure if we could make a mattress 20cms narrower.
Every mattress model in our showroom can be made in this size (and any size) from the least expensive foam mattress to the top of the pure copper latex mattress.
After some testing they selected the Blue Sky 100 mattress which features soy based bio foam with a layer of cool gel memory foam that is perfect constantly growing young bodies.
Nine Clouds Beds store is open 355 days a year in Mississauga Ontario to help you chose the right European size mattress.
---