Can you make me a queen box spring or wood foundation that is 6.25 inches high?
Nov. 27, 2019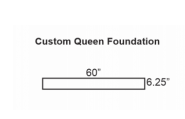 Yes we can!
A customer asked for this exact height and I responded that one of our suppliers should be able to make it but that it would cost $100 more than an already in stock 7" foundation. 7" was too high for them so the order was placed.
We always tell customers that we'll come as close as we can without going over there requested dimensions on a custom mattress or foundation. We will measure this item when it comes in and see how close they came but the producer does know it is important to the customer so I expect it to be very close.
Nine Clouds Beds is open 355 days a year at Glen Erin and Dundas in Mississauga to help with all your custom mattress and foundation needs, please visit.
---