Can I buy wooden slats and place them on one your steel bed frames instead of using a box spring?
Nov. 11, 2019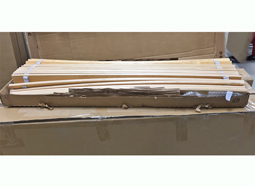 You can but shouldn't.
A customer visited to store yesterday hoping to do just that. They Intended to buy a queen roller frame and then a wooden slat pack from ikea.
I strongly advised against doing this for a couple of reasons.

1) No mattress manufacturer will honour a warranty with this type of arrangement under their product. The slats would be too loose and would not have center support.
2) I told the customer I had made a similar purchase from ikea a month ago to try to provide better support on a daybed we had recently placed on our sales floor. The daybed comes with extremely flimsy support slats. The ikea slats were very well made (cost less than twenty dollars) but were not wide enough to work in this situation.
---