A look back at design trends for 2010
May. 22, 2019
Consideration. Healing. Faith. Truth. The ringing in of the new 2010 decade creates new expectations and promises. This year's color trends will reflect a renewal of sorts, while adding fantasy and excitement. Each year, the interior design community looks for new colors to create optimism, allowing people to surround themselves with the things that make them feel good. Global infusion continues to influence combinations and patterns, bringing these renewed color palettes to the table.
Pantone, the leading expert on color influence for the design world, has proclaimed Turquoise as 2010's color of the year. "In many cultures, Turquoise occupies a very special position in the world of color," explains Leatrice Eiseman, executive director of the Pantone Color Institute®. "It is believed to be a protective talisman, a color of deep compassion and healing, and a color of faith and truth, inspired by water and sky. Through years of color word-association studies, we also find that Turquoise represents an escape to many – taking them to a tropical paradise that is pleasant and inviting, even if only in a fantasy."
Turquoise has been a staple in the interior designer's palette for a number of years, taking on different tones and faces, but none have been this vivid. Complying with both warm and cool tones, turquoise will be found with a variety of color combinations.
2010 is predicted to be a year of renewal as well as a turning point. It is a new decade, following a tumultuous start to the millennium. The new face of interiors will follow this prediction, urging people to add more color and emphasize their personality, perhaps finding a new way to express themselves through design. Surroundings have become more important than ever to provide a stable environment, a place to enjoy friends and family, and a way to express individualism. The use of patterns and textures in home furnishings will enhance these surroundings through the use of vivid color.
Color trends can be grouped into several categories to further define their meanings. The following groups create a sense of style and direction for the latest trends.
Historical Roots
The infusion of patterns influenced by Native Americans and Tribal Africans have found their niche in both traditional and modern decorating motifs. Ikats, batik-influenced patterns, with a side of animal skins are richly combined with leather, feathers, beads, and other natural materials. Other global nations will provide influence for this colorful trend, especially those with intricate patterns.
Rich, earthy brown tones juxtaposed with shades of turquoise provide a base for this color trend. Adding mustardy golds, earthened shades of red and slate influence hues to create a palette that is easy to live with. Geometric patterns offer a tribal feel are combined with luxurious textures of chenille, buttery leathers, or animal influenced patterns. The shapes are inspired from historical textiles, weavings, rugs, and paintings.
A traditional look would layer all of these options, and add unexpected elements of trims, pleats, or the occasional wood bead. Furnishing trends would further enhance the look by combining distressed wood finishes with painted accents. The use of metal for table bases, lighting, or other accent pieces becomes very important to pulling this varied look together. Geometric patterned rugs put the entire sequence in place, creating a warm and inviting look.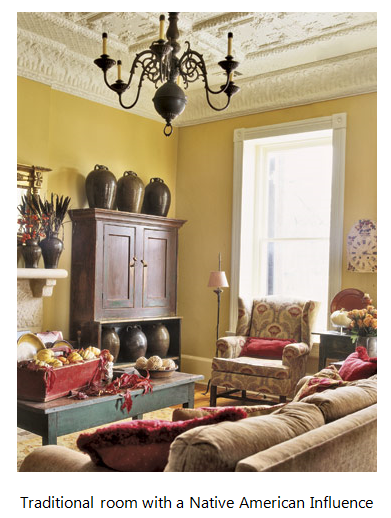 A more modern approach will pare down the layers of pattern for texture on furnishings, while playing up shapes in art or floor coverings. Native American or African masks can be a focal point on a wall, while allowing the shape of furnishings to direct the room.
This global inspired palette is also lifted directly from current fashion trends influencing 2010. The unbridled geometric shapes are pleasing to the eye and create harmony without being too stiff. This trend is one that should be given careful consideration, as a little will go a long way. Someone decorating with this trend in mind should steer clear of becoming too "theme-oriented", and keep the overall look more restrained.
Spring Sizzle
Turquoise wouldn't be turquoise without the exuberance of bright and lively colors surrounding it. Shades of bright pink, coral, purple, grass green, and sunshine yellow create a bold trend in fearless decorating.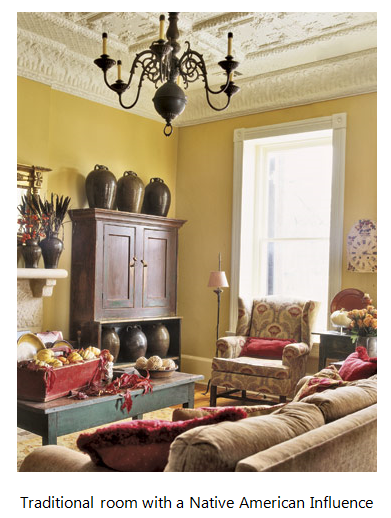 The excitement displayed by this palette is a delight to the senses. Coral tones will be an important color for 2010. This universally flattering hue is showing up in energizing combinations, particularly with shades of turquoise and soft whites. A room painted coral will enhance a person's natural color, giving them a healthier glow and happier aura. Expect to see this color in nature or floral inspired prints, along with the continued use of strong two-toned geometrics.
For those wanting a more sophisticated version of this color trend, the pops of neon are softened with shades of brown or gray to take the edge off. This allows the room to keep a timeless base with accents of color that are easy to change. Picture the high contrast of a lemon yellow with varying shades of taupe. The effect is an old Hollywood glamour being updated to today's standards.
Taupe and yellow sophistication
European Artifacts
Distressed finishes, patinas, and lighter finishes are all part of a new trend circulating from the Old World. This trend uses color in a mellowed or weathered palette, evoking an antique or passed down tradition. Softer tones of yellow, turquoise, pale pink or purples, gray-tinged blues, and subtle browns tell a story of travel, worn elegance as well as ease.
Finishes appear to have layers of paint scraped off, adding additional texture to the furnishings. Distressing of wood stains and even fabrics give a flea-market feel to the overall look. Linen velvets, intentionally rumpled prints, and softly lit silks are combined with worn woods and metals, creating a casual appearance. This trend capitalizes on the imperfect, allowing you to mix pattern and color more freely. The overall look is one that is soft and comforting, and works well with a collective group of items, rather than showcasing one item in a room.
This casual elegance will embrace the green movement more for some, encouraging us to look to the resale or antique shops for a "not-so-new" looking treasure. Recovering vintage frames to update them will continue to be popular, and fit well into this trend.
Overscaled florals, varying sizes of stripes, soft tonal damasks, and textural solid fabrics will define this 2010 trend. An eclectic mix of woods and metals will pull the look together in a room, grounded by a richly patterned rug. The softer tones give a calming effect on the room.
Calm and Collected
The past few years have focused on the Zen effect. Today's expectation is that we have found it, and we need to maintain it. The soft palettes of neutral from the previous trends are moving to a quieter, sophisticated grouping of grays. This trend focuses on a more tailored and timeless aesthetic, emphasizing soft touches of color. Accessorizing with creamy yellow hues or watery blue-greens bring in much needed personality. Heathered shades of purple will also be popular.
This trend will not focus on the furnishings in a room. It is there to provide a soothing backdrop, perhaps one that is punctuated by a collection of artwork. It also allows the versatility to change accent pieces and accessories when more color is desired.
The Asian influence in decorating style is still a strong part of this trend, with furnishings being clean and simple in style. Translucent sheers, squared off arms, no distressing, and darker finishes are hallmarks of this trend. Silhouettes tend to be long and lean, with a sexy, low slung look. Expect to see soft metallic finishes on both furniture and in fabrics.
Summarizing the 2010 Trends for Interior Decorating
Brown will continue to dominate as a go-to color in decorating, being followed closely by shades of gray or taupe. "In the last year, people were looking to be calmed and comforted by interiors," states designer Melanie Coddington, recently named as one of House Beautiful's 20 interior designers to watch. "I hope the burgeoning sense of optimism will translate into sparkle, glamour, and lots of risk taking in design. In with color!" Coddington also agrees that the "purple moment" that came on strong in 2009 will factor heavily into this year's trends. She loves that it works so well with the gray and brown base tones.
While paint is being used more often, wallpaper still continues to fight for its rightful place. Last year it made a large comeback, and is poised to be even more popular in 2010. Textures such as grass cloth are easy to incorporate into any interior, and are nice to hide imperfections in the wall. Textural vinyls add depth to the perimeter, and will be the more popular wallpaper trend to go-to. Natural materials such as cork, linen, sand, crushed marble, and other stones are creating an exceptional statement. This addition of texture provides another layer to the finished look of a room.
In addition to all the rich and bold colors for 2010, the overall look for interior design is optimistic. More sparkle is being added to rooms, whether it is a metallic thread running throughout a fabric, to bejeweled accessories or lighting. Gold and bronze are just as prevalent as silver, but the trend seems to be leaning to the warmer tones. The use of metallic finishes in unusual places will continue, including leathers, mercurial glass on tables, and woven into fringes or cording. Wallpapers are also adding bling by giving the option of adding glued-on jewels or beaded accents. Shiny metallic finishes inspired by nature will be a very popular choice.
Art-inspired glass pieces will be a favorite trend for accessorizing. Colorful, mouth-blown glass will be found everywhere, from centerpieces to lamp bases. Because of its unique properties, each piece will be different, adding a custom element. The light reflecting qualities provide another way to add brightness to a room without being too intense. Crystals will be found more on chandeliers, creating a more decadent and luxurious style.
Accent pieces will take on a more jewelry-like feel, with the use of beading. Window treatments will also incorporate beading into tiebacks and trims to add a taste of overall glamour. In addition to beading, accents will take a page from fashion by adding accoutrements of belts, crystals, sequins, and 3-D floral embellishments. Belts for interior design? Watch for them to nip in pillows, table skirting, or even serve as a finishing touch on a table.
Dressmaker details will also be more prevalent, with ruching, shirring, and pleating. Watch for these finishing touches in window treatments, bedding, pillows, and skirting. Upholstered items will also feature these extra touches for a more custom look.
Geometric shapes will reign heavily, not only in textiles, but on furnishings. Mirrors, lighting, and side tables will feature more curves, and fit in well with today's sleeker lines. The curvature adds a softer touch, giving the eye something easier to land on. The idea is to mix geometric shapes with the straighter lines to add interest and proportion to a room. Curvy profiles will show up in nearly every room, and add a bit of whimsy. Expect to see more unusual scales of furnishings that incorporate this trend through exaggerated lines.
Organic shapes influenced by nature will be finding a home in 2010's interior decorating trends. As designers experiment with more futuristic shapes, expect to see those taking note from items under the sea. The translucent effect of jellyfish may find its way into a light fixture. The movement of water provides inspiration for patterns in textiles, glassware, or other forms of lighting.
Other natural motifs that will continue to be popular are branches or shapes of leaves. The rough look of bark provides a wonderful texture on metal tables. The refined line of a gingko leaf is a calming shape in both modern and traditional settings. More involved floral prints are making a comeback, adding life and movement to a room filled with solid textural furnishings.
The Greek key motif made resurgence in 2009, and will more popular than ever for 2010. This classic motif will be found in edging or trimming on upholstery skirts, draperies, or anywhere else it can be creatively placed. Its strong geometric shape provides a nice finishing touch to both modern and traditional styles.
A revival of vintage shapes in furnishings will also be popular in 2010. This trend will revive an Art-Deco chair or a Victorian settee by painting it a glossy color, such as navy or apple green, and then upholstering the seat in an unexpected fabric. The outcome is sometimes outrageous, sometimes sexy, and adds moxie to any space. This trend is especially important because it does make a statement about living more responsibly. Keeping older items out of the landfill by recovering, refinishing or repairing will be more popular than ever, especially during this time of recession.
The mixing of vintage pieces with modern is a trendy look that continues to be perfected as interior designers become more comfortable with it. Being able to mix sometimes dainty proportions with today's clean lines takes a practiced eye, but the results are magnificent when done well. It is much more personal and interesting to mix older pieces in with the new ones, creating an unexpected visual feast. "Find the one piece that speaks volumes about your personality to be your room's conversation maker," recommends designer Jordan Farnsmith from Indiana. "Perhaps it is a ridiculous coat rack that your grandmother had in her entry – paint it a glossy shade of your favorite color and put it in a place that gets noticed. These are the things that individualize your home." Putting a twist on classic shapes will be a common theme in 2010 decorating.
Becoming More Green
Using sustainable or green products is not really as much of a trend anymore as it has become a way of life. However, in the interior design community, the products continue to improve immensely, making it easier than ever to find them. The new green fabrics have a softer hand, better depth of color, and more choices than ever. Prices continue to come down on these products as manufacturing processes are perfected.
Furniture companies are striving to retain luxury while incorporating more sustainable materials. Lee Industries, a leader in the eco-friendly furnishings field, prides itself on using soy-based cushion materials and wood from Certified Sustainable Forests. "The consumer is much savvier and wants to be more environmentally responsible. We are committed to providing a luxurious, custom seat that our customers will keep and recover for years to come," states Norman Coley, Lee Industries president.
Resale and consignment shops are seeing resurgence in sales with the interest in recycling as well as with the stale economy. Consumers are learning more do-it-yourself tips, and are looking for materials made from recycled product. Repurposed items that are found at estate or garage sales are finding new life by being painted or creatively rejuvenated. Sites such as 1stDibs.com show wonderful vintage items and provide plenty of inspiration.
In addition to reusing items, today's trendsetters are more apt to make some of their own home interior accents. A revival of sewing, woodworking, and home craft making will be strong in 2010, with people spending more time at home.
Natural materials will continue their dominance in counter surface, and will include more use of quartz or cement. Cement, while expensive to install, can now be dyed numerous colors, and given various levels of finish for durability. It is being specified more and more for countertops and flooring, and is easy to maintain. The same is true for quartz based materials – their natural anti-bacterial quality makes this product a favorite for kitchens and bathrooms.
The Size of Things to Come
As with a shrinking economy, one of the biggest trends in interior decorating is the downsizing of homes. Decorating has adapted to people moving into loft apartments or smaller dwelling of 1500 square feet and under. For some it was a necessity, for others it was the idea of living with less. Regardless, the interior design world has had to create smaller scaled furnishings to fit these spaces, as well as provide double duty for functionality.
"In the last couple of years I have decided that I don't need all the extras," says Jillian Granger, 44, a new resident of the Paul Brown Lofts in St. Louis, MO. "My family travels a lot and the idea of not having to maintain a large residence became very appealing. Living in a smaller space taught me to decide which things I really need."
Family rooms double as guest bedrooms if the sofa will pull out into a bed. Console tables are used as desks, and drawers are built into spaces under bed to be used for extra storage. A kitchen island has a new feature – it could have hidden pull out legs that convert it to a dining table-like piece to seat ten.
Decorating trends for smaller spaces will focus on smaller proportions. Occupants will still focus on using luxury materials such as marble, granite, and exotic wood floors, but the emphasis will come in little details. The kitchen backsplash may include a unique metal or glass tile to reflect light as well as provide an intricate detail. Lighting will be recessed in order to not take up visual space.
Technology will also play a major role, with areas devoted to laptops, phones, music, and other communication or gaming devices. Designing rooms to accommodate these things will be an important factor in layout and flow.
The new decade's trends for interior decorating will provide hope and optimism for what is to come. Keeping continuous harmony throughout the home is still the key to good style, and using the trends in ways that personalize the space will be crucial. It is important to not be too caught up in what is the latest and greatest idea, but rather utilizing a few of the new ideas to update the space. You are only limited by your own creative style. If you do only one thing in 2010, please add a touch color to your surroundings.
---