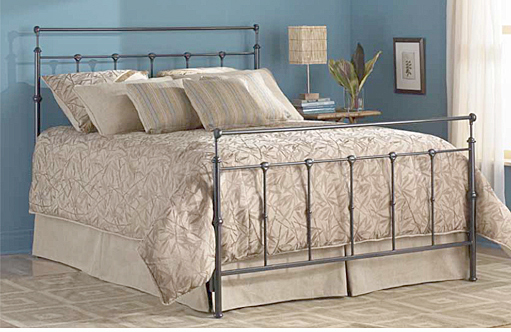 Just one left!

---
King Winslow Headboard & Footboard
Introducing "The Winslow" Grey Iron Bed: A Rustic Relic of Frontier Elegance

Step into a scene straight out of the Wild West with "The Winslow" Grey Iron Bed, a masterpiece that embodies the rugged charm and timeless allure of a bygone era. Crafted to withstand the rigors of the frontier, this bed combines classic design with enduring durability, making it a centerpiece worthy of any rustic homestead.

Key Features:

1. Rustic Aesthetics: "The Winslow" Grey Iron Bed captures the essence of a bygone frontier with its weathered grey iron finish. It exudes a sense of history and character that blends seamlessly with the rustic surroundings of the Old West.

2. Hand-Forged Craftsmanship: This bed is a testament to the craftsmanship of skilled artisans. Each twist and turn of its iron frame is meticulously hand-forged to perfection, ensuring authenticity and a rugged charm that stands the test of time.

3. Sturdy Durability: Designed to endure the harshest of conditions, "The Winslow" offers robust support for your mattress, whether you're sheltering from a dust storm or simply seeking refuge from a long day on the frontier.

4. Quick Assembly: With life on the frontier demanding your attention elsewhere, "The Winslow" is thoughtfully engineered for swift and straightforward assembly, allowing you more time for pursuits like cattle herding and campfire tales.

5. Timeless Appeal: "The Winslow" Grey Iron Bed is more than just furniture; it's a piece of history that brings the essence of the Old West into your home. Its timeless appeal ensures it will endure through the changing seasons of frontier life.

6. Affordable Luxury: In the Wild West, value was a cherished commodity. "The Winslow" offers exceptional quality and style at a price that won't break your saddlebag. It's an investment in both comfort and authenticity.

Embrace the frontier spirit and immerse yourself in the timeless elegance of "The Winslow" Grey Iron Bed. Whether you're a trailblazing cowboy, a fearless rancher, or a saloon keeper looking to create an authentic Western ambiance, "The Winslow" is the quintessential piece to complete your rustic oasis. So, hang your hat, kick off your boots, and experience the rugged elegance of "The Winslow" today—the bed that stands the test of time on the frontier.






---
People who bought this product also purchased these items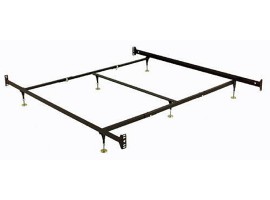 Queen-King Double Ended
Sturdy steel glide frame for attaching both a headboard & footboard
$269.00
$219.00 on sale
>

Learn More