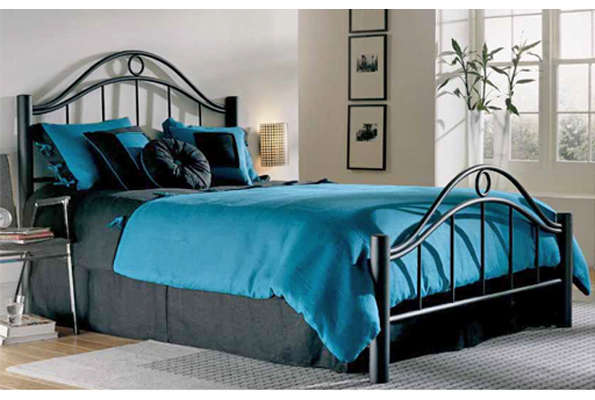 ---
Linden Headboard & Footboard
Introducing the Elegance and Simplicity of the Linden Iron Bed in Black Finish

Enhance the ambiance of your bedroom with the timeless appeal of the Linden Iron Bed. Crafted with meticulous attention to detail, this bed exudes a harmonious blend of classic design and minimalist aesthetics, creating a focal point that complements any interior style.

Timeless Design: The Linden Iron Bed boasts a graceful arched headboard and footboard, adding a touch of elegance to your sleeping space. The arch's gentle curve is expertly balanced, making it a standout piece that captures attention without overwhelming the room.

Black Beauty: Finished in a rich and versatile black hue, the Linden Iron Bed radiates a sense of sophistication and refinement. The black finish is not only stylish, but it also seamlessly coordinates with a variety of color palettes, allowing you to effortlessly integrate this piece into your existing decor.

Minimalist Marvel: Embrace the beauty of simplicity with the Linden's minimalist design. While many iron beds feature intricate detailing, the Linden takes a different approach, embracing clean lines and uncluttered charm. This makes it an ideal choice for those who appreciate understated elegance.

Quality Craftsmanship: Crafted from premium iron, the Linden Iron Bed offers more than just stunning aesthetics—it's built to last. The durable construction ensures longevity and stability, allowing you to enjoy restful nights for years to come.

Versatile Coordination: Whether your bedroom is adorned with contemporary, traditional, or transitional decor, the Linden effortlessly blends into any setting. Its neutral black finish and minimalist design allow it to play well with a wide range of furnishings and accessories.

Easy Assembly: We understand that convenience matters, and that's why the Linden Iron Bed is designed for easy assembly. Clear instructions and all necessary hardware are included, simplifying the setup process and allowing you to enjoy your new bed sooner.

Your Sleep Oasis Awaits: Transform your bedroom into a haven of relaxation and style with the Linden Iron Bed. Its understated beauty, durable construction, and versatile design make it a timeless addition to your home. Elevate your sleep experience while enjoying the refined charm that only the Linden can bring.

Elevate your bedroom decor with the Linden Iron Bed in a classic black finish today and experience the perfect balance between classic allure and contemporary simplicity.



Steel support frame not included. Pick up only, delivery not available.
---
People who bought this product also purchased these items
Twin-Double Single Ended
Popular quality steel frame with glides or wheels that allows a headboard to be attached.
$149.00
$129.00 on sale
>

Learn More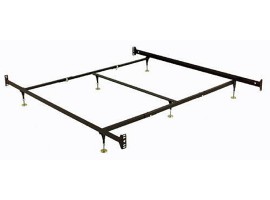 Queen-King Double Ended
Sturdy steel glide frame for attaching both a headboard & footboard
$269.00
$219.00 on sale
>

Learn More