Why is choosing the right hospital bed, for your home, important?
Mar. 30, 2019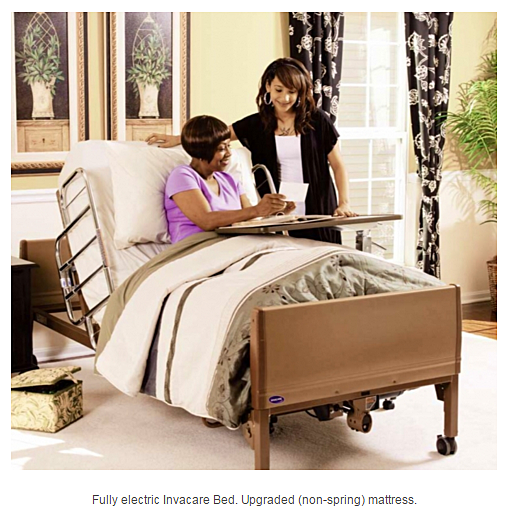 When you have a family member who needs to spend most if not all of the day in a bed at home, it is essential to have a comfortable and well equipped bed for them. It can be distressing for the relatives as well as for the person suffering from ill-health, otherwise. The patients who have to constantly 'rest' can suffer from depression due to lack of activity. Likewise, on a physical front, it can hinder the movement of the patient from the bed, or cause problems in taking proper care of them. In extreme cases, improper care can also give rise to pressure ulcers.
The treatment of these ulcers can prove to be very expensive. When lying on the bed for a prolonged period, there are many factors that may increase the risk of be sores. Lack of movement is one of the main causes that results in lowering the blood flow to certain areas of your body. Some other factors are the weight and the age of the patient. Consuming a balanced diet is an important criterion in maintaining the health of your skin, the tone of which becomes worse when a person is unwell. Other reasons like infections or incontinence can also pose a risk for patients. Pressure, moisture, stretch, tear and friction are the major causes of forming a pressure ulcer. This can be avoided when you have a hospital bed that is well made, has the right sleeping surface, and is properly functional.
Moreover, having a hospital bed will help in the proper co-ordination of the patient's movements. This is applicable while the patient is in bed or when they are being moved to and from the bed. Taking care of an ill loved one is a critical task. If you have the correct equipment at your disposal then it becomes much easier for the care taker as well as the individual who is unwell. When eating the user should be able to sit up in a relaxed manner, without having to worry about risking further deterioration to his health. So, if you have a bed that gives you the functionality to raise the upper body of the patient, without them having to put in any effort, you have your solution.
Similarly depending upon the doctors' directions, the user might need to keep their feet raised while resting or, keep their head raised at a certain angle to help recuperate better. Also, having an equipped bed that can be raised up to a required height when needed and then lowered back, aids in moving them from the bed safely. All this can be provided by choosing the right bed and other safety equipments for your loved ones who are unwell. Invacare IVC home care beds are designed keeping these aspects in mind, so that the process of healing is a comfort for both the patient and the caregiver!
Features of the Invacare IVC home care bed
Listed below are some features that make Invacare IVC beds easier to be delivered, set up, maintained and cleaned.
• Bed Ends that are universal – the bed ends can be used as a footboard or a headboard and on any type of Invacare bed. This makes the bed ends, interchangeable and low on inventory.
• Stronger bed end panels – these bed end panels are resistant to scratches and 22 times stronger than regular fibreboards.
• Motor system – these beds have a low voltage DC motor system that is lighter, swifter and quieter than AC systems. It has enclosures that are waterproof making the bed completely washable.
• Storage friendly hand pendant – the hand pendant is equipped with a heavy-duty cord, optional cradle and strain relief to make it storage friendly.
• Secure positioning – the bed comes with two locking and non-locking casters that have treads made out of non-marring rubber so that the positioning can be secured.
• Certifications – all the beds are certified by CSA and UL962.
• Manual operation – every electronic bed is provided with an emergency crank that allows manual operation of all the motors in case there is a power failure.
• Weight capacity – the beds have the capacity to hold patients up to 350lb. and a total weight capacity of 450lb.
• Junction box – it has a junction box that is double insulated so that there is no need for prong grounding
• Color coding – the connections in the junction box are color coded, to simplify the maintenance.
• Caster sockets – the caster sockets are much enhanced to ensure proper retention during the process of delivery and setting up of the beds.
• Maintenance schedule – every new customer is provided with an extended maintenance schedule that can be renewed every three years.
Types of Invacare IVC home care beds
There are many types of Invacare beds that you can select from for catering to your specific need. These are the:
Invacare IVC full electric bed – these beds are very convenient for the patient and the person taking care of him/her. The height of the bed (measured from the floor to the bed board) is a minimum of 15" extending up to a maximum of 23". The flat sleep surface is 80" in length and 36" in width, making it very comfortable for the patients. The pendant control of this bed is easy to use and can be managed to provide the required positioning to the knees and upper body. The height of the bed frame can also be adjusted for making the transfer from the bed easy and safe. In this type you can also have the Invacare IVC full electric low bed that has a minimum height of 9.5" to bring further convenience and safety to your home. These low bed ends are completely compatible and interchangeable, helping in the simplification of the inventory management.
Invacare IVC Semi-Electric Bed – these beds are economical as compared to the fully electric bed. The positioning of the knees and upper body is done electronically and the adjustment of the height of the bed (between 15" to 23") is done manually. To do this there is a manual crank that can be used by the caregiver to adjust the height of the bed as required. It is located at the foot end of the bed.
Other Bed Accessories and Equipments
There are many accessories and equipments that complete a home care bed. Following are some of the categories of products:
Bed Rails
The Invacare bed rails are a very important accident prevention and security aiding accessory that has to be there on a patient's bed. These rails are plated with chrome and welded in steel to be durable and ensure to withstand repeated heavy use. It is easy to set up and many models do not need any tools for its assembly. These rails can be attached permanently or temporarily on to any medical bed. There are many varieties of Invacare bed rails that you can select from as per your requirement: All models have 1 year warranty on them.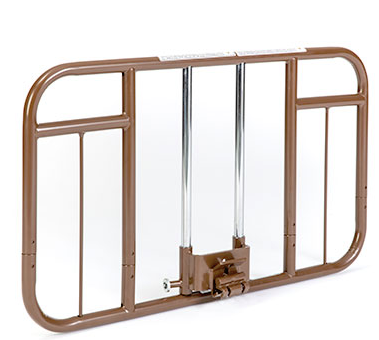 Mattresses
Mattresses are as important as beds. Even if you have a proper hospital bed at your place your choice of mattress can make all the difference. Invacare has various types of mattresses to aid in your health care.
Solace Therapeutic Foam Mattresses – these are specially designed mattresses using two layers of foam formulations. The solace mattresses are made to distribute the weight of the patient uniformly, thus preventing and relieving pressure ulcers. The Solace Prevention series of mattresses are patented. They are a unique solution in the static support surfaces offering immense comfort to the patient and the caretaker. These mattresses come in 80" length and have a soft head and heel support. The Solace prevention series mattresses are cost effective and come in two versions – the Solace Prevention 1000 and Solace Prevention 3000 models.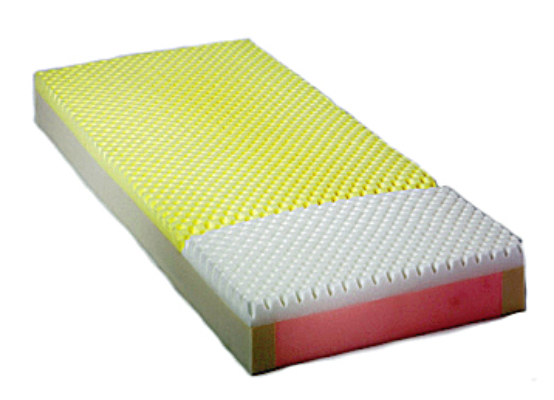 Over bed tables and other bed accessories
Extender Kit – the extender kit is made to extend the length of the bed from 80" to 84". It is a complete kit consisting of link fabric, drive shaft, helical and head pull tube that is extended. This can also be used on all IVC beds.
Invacare Auto Touch Overbed Table – As obvious by the name this table moves upward automatically with a slight touch in this direction. This table has a spring loaded patented handle that is used for locking the table in position. This is very simple, as the table top is elevating just give it a downward touch lightly and it stays put.
These table tops are easy and practical to use at your homes or even the hospitals. The height of the table can be very easily adjusted to get optimum comfort while the patient wishes to read, write or eat. They look attractive with their laminated top and a walnut colour wood-grain. It also has an edge that is T-moulded for resisting damage. These tables are well equipped with 1.5" casters that make sure the table can move smoothly in any direction. Finally the durability of the table is ensured by the heavy gauge plating of chrome and the tubular construction made in welded steel, making these overbed tables a sensible and valued addition to your home medical equipment.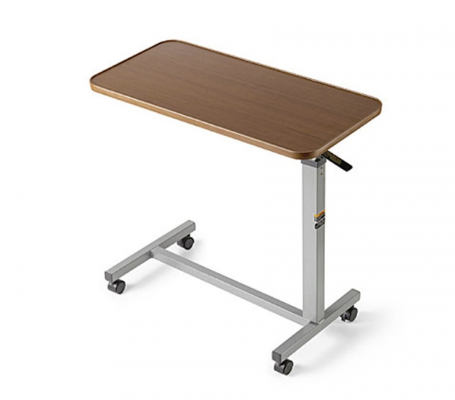 Invacare Traction and Traction Equipment
All Invacare trapeze units are very important aid to help in the movement of the patient while they are in bed or are being transferred to and from the bed. You have to always make sure that the trapeze is attached to the bed end at the head section only. To give the patient maximum accessibility the trapeze units have a big range of hand bar positions and height adjustments. These also come in different forms and should be selected depending upon the requirement of the patient.
A) Invacare Trapeze Floor Stand
B) Invacare Fixed offset Trapeze bar with Trapeze
C) Invacare Bariatric Floor Stand With Trapeze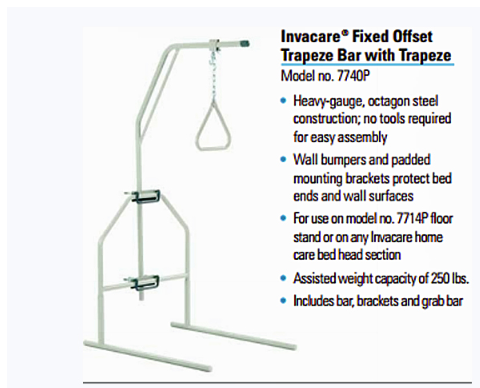 Why Invacare?
Now that you have read about all the products that Invacare has to offer, you can very well decide what you need to buy to make sure that your loved one has a speedy recovery. Taking care of your family or friend who is completely dependent on your support is a big responsibility, so make sure you provide the necessary arrangements to make the patient as comfortable as possible. With many different varieties of products starting from the bed to various accessories, you can concentrate on medical care without getting worried about further problems being created to deteriorate the patient's health. These could be in terms of safe movement of the patient and being able to feed them properly while they are comfortable. Taking proper precautions and buying the correct equipments can save you from further financial and mental problems.
https://www.fcihc.com/blog/expert-interview-series-bill-laidlaw-of-nine-clouds-on-bedding-options-for-the-elderly
---